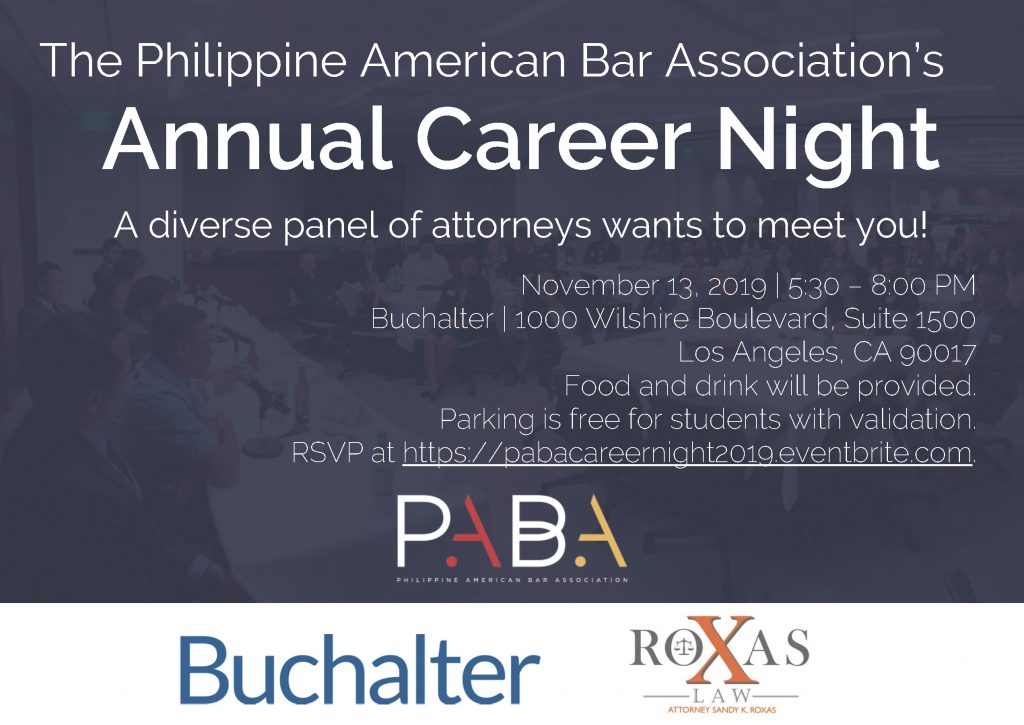 PABA Career Night
Are you thinking about law school? Wondering what are your options after graduating from law school? Or are you looking to take the next step in your legal career? The Philippine American Bar Association (PABA) would like to invite you to our annual Career Night, sponsored by Buchalter and Roxas Law, APC, on Wednesday, November 13, 2019, at 5:30 p.m., where you can find answers to all of those questions and more!
As always, we are excited to have a panel of practitioners from different practices and levels of experience. This year, our distinguished panelists include:
Teresa Eden Zabala, Deputy Public Defender, Los Angeles County Public Defender's Office
Ernie A. Ocampo, Counsel, Reed Smith LLP
Kenneth U. Reyes, Managing Partner, Law Offices of Kenneth U. Reyes
Stacey A. Villagomez, Associate, Allen Matkins Leck Gamble Mallory & Natsis LLP
Parking is free for students with validation.
RSVP at https://pabacareernight2019.eventbrite.com. Space is limited so please reserve your seat by obtaining a ticket today!
Many thanks to our sponsors for this event:
Buchalter
For more information about Buchalter, please visit their website at https://www.buchalter.com/.
Roxas Law, APC (Food Sponsor)
For more information about Roxas Law, please visit their website at https://roxaslaw.com/.