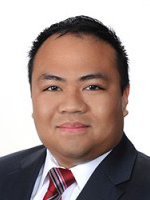 The Philippine American Bar Association (PABA) is proud to endorse our Chair of the Board and Immediate Past President Philip Nulud for President-Elect of the National Filipino American Lawyers Association (NFALA) in NFALA's upcoming elections.
View Phil's candidate statement <HERE>.
Phil has made significant contributions to the Asian Pacific American community and has stood out as a community leader.  He has served as an active member of the PABA Board of Governors since 2011.  In that capacity, he has planned and participated in many significant events and projects for the community, including moderating PABA's Career Night, chairing PABA's Social Committee, and driving PABA's efforts at mentorship and outreach.  Due to Phil's efforts, PABA has seen many new members, law students, and friends join the organization.  He also advocated for the renaming of a school in Long Beach, California to be named after a Filipino American hero and voice in the Labor Movement, Larry Itliong.
Phil served as PABA President last year and currently serves as our Chair of the Board.  Under his leadership, PABA saw a resurgence in involvement, not only from new members, but also past members who had been inactive.  PABA's annual galas in 2017 and 2018 drew over 350 attendees and approximately 30 sponsors each, and we were able to award five scholarships to law students.  Phil spearheaded PABA's efforts to raise money for Filipino veterans of World War II to help educate others of their involvement and to help pay for their Congressional Medals.  Additionally, PABA was able to create new bridges to organizations such as NFALA, NAPABA, the Search to Involve Pilipino Americans and many more.  His advocacy pushed PABA to be active with NAPABA initiatives and sign on to NAPABA's amicus briefs challenging President Trump's revised Muslim and refugee ban.  Also, during his term, PABA issued statements and press releases about relevant events in the community such as what took place in Charlottesville.
It was due to Phil's advocacy and leadership that PABA was selected to host the very successful Pinay Powerhouse 2 (PP2) conference, a singular women's conference bringing together Filipina-American attorneys, judges, in-house counsel, and law students from across the nation to celebrate their unique identities and to confront the issues impacting their social, political, and economic progress.  Approximately 150 Filipina attorneys and law students from across the United States, from all practice areas, attended the three-day conference.  He also helped plan some of the events, helped obtain sponsorships (including from his own firm), and even provided scholarships to law students.
In addition to PABA, Philip has served the APA community in other leadership roles.  He was one of the founding executive board members of the California Asian Pacific American Bar Association (Cal-APABA), where he serves as treasurer.  Cal-APABA was formed in the wake of a divisive national election, seeking to give voice to California's 30 APA bar organizations and the interests of the over 14,000 APA attorneys statewide.  In March of 2018, Cal-APABA held their first lobby day in Sacramento.  The event was a success—it had representation in 38 of the state's 40 legislative districts.  The attendees were able to meet with legislators to address priority issues such as hate crimes, the 2020 Census, judicial appointments, and others.
After participating in the Cal-APABA Lobby Day, Philip also participated in the NAPABA Lobby Day in Washington, D.C.  He is the regional governor for the Central California Region for NFALA, and has previously served on the board of the Asian Pacific American Bar Association of Los Angeles County.  He has strongly advocated to state and federal officials to encourage them to appoint qualified APA judicial candidates to the bench—during his leadership in PABA, we have seen three of our own be elevated to the bench and also held CLE seminars on "Filipinos On The Bench – Challenges and Solutions." He also served on the Asian Americans Advancing Justice Executive Advisory Council.
Philip also serves on the Board of Governors for the Loyola Law School Alumni Association.  He is currently the secretary and will be president in 2020.  He is one of two APA members of that board.  Since his installation on the board, he has been effective in promoting APA interests within the law school, including the establishment of an APA alumni organization and helping to boost visibility and awards for APA students.  Philip also serves on the Scholarship Committee for the University of Southern California's Asian Pacific Alumni Association.  Through these activities, Philip has mentored many APA students and they have been able to not only grow, but also expand their networks and careers due to his mentorship.
With respect to his professional career, Philip is a senior counsel at Buchalter and an expert in intellectual property law.  He is a member of the intellectual property and corporate practice groups.  His practice focuses on counseling clients in all aspects of intellectual property including: domestic and international trademark prosecution, strategy, enforcement, management, licensing, and policy; patent prosecution, clearance, and infringement; domain name arbitration; and related litigation concerning such.  Because of his expertise, he is frequently requested to consult in connection with complex and high-stakes litigation matters regarding intellectual property.
He has published articles on these topics in various publications (legal and non-legal) and intellectual property blogs.  He contributes often to IPWatchdog.com, one of the leading legal blogs online.  He regularly lectures in undergraduate and law school classes regarding intellectual property, and hosts roundtables for the International Trademark Association (INTA).
Philip is also involved in his firm's management, representing associates and senior counsel in important firm matters, welcoming and interviewing new candidates and hires, and participating in firm volunteer activities, such as monthly volunteer events at the Los Angeles Women's Shelter.  Lastly, he provides pro bono legal work to law enforcement agencies, law enforcement foundations, fire departments, and first responders.