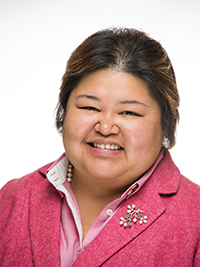 The Philippine American Bar Association (PABA) is proud to endorse Past PABA President Christine Gonong for Secretary of the National Filipino American Lawyers Association (NFALA) in NFALA's upcoming elections.
Christine is committed in strengthening the Asian Pacific American community.  She is one of the longest-serving active members of the Board of Governors for PABA, having joined the Board in 2008.  Christine also has served in multiple officer positions, including as PABA President from 2015 to 2016 and previously as PABA Secretary from 2008 to 2009.  She continues to make significant contributions to PABA and the PABA community.  For example, she moderated PABA's CLE on trends in immigration law under the Trump Administration; served as a panelist at PABA's Career Night; and regularly hosts Adobo Nights.
Beyond PABA, Christine currently serves as a member of the California Lawyers Association's Committee on Administration of Justice, which is composed of a diverse group of attorneys concerned with aspects of civil procedure, court rules and administration, rules of evidence, and other matters having an impact on the administration of justice in the civil courts.  She is also the Chair of the Advisory Board of Cabrillo High School's Law and Justice Academy (CALJ), which focuses on providing mentorship to high school students from underserved communities who are interested in pursuing a career in law or law enforcement.  Christine previously served on the Board of Governors of the Asian Pacific American Bar Association of Los Angeles (APABA) in 2014 to 2015.  From 2015 to 2017, Christine was also a member of the Asian Jewish Initiative Planning Committee of the Anti-Defamation League (ADL).
Christine was a panelist at NAPALSA at NAPABA's seminar on "How to Get Clerkships" in 2016.  Christine was also a speaker at the Institute for Inclusion in the Legal Profession (IILP), a national organization committed to fostering diversity and inclusion in the legal field.  Most recently, Christine participated in the Pinay Powerhouse 2 Planning Committee.  Christine was responsible for creating programming for the Keynote Luncheon, which she had the honor of moderating.
Christine migrated to the United States when she was 16 years old.  She was the first in her family to graduate from an American university.  Growing up in the Philippines under Martial Law, Christine learned at a very young age the value of freedom and fighting for basic human rights.  Like many first-generation immigrants, Christine strived to overcome adversities and was able to attend college and law school through hard work and the generosity of those who helped her along the way.  This deep sense of gratitude is what inspires her to give back to her community.
Christine practices complex litigation focusing on catastrophic injury at Nguyen Lawyers, ALC, a plaintiff-side firm.  She has an extensive appellate experience, having served as a law clerk to Associate Justice Mario R. Ramil of the Hawaii Supreme Court (2002) and Circuit Judge Jacqueline H. Nguyen of the U.S. Court of Appeals for the Ninth Circuit (2012-2014).  She was also a career law clerk for the U.S. District Court for the Central District of California, having served as clerk to Judges S. James Otero (2003-2006), Dale S. Fischer (2009), Otis D. Wright II (2010), and Jacqueline H. Nguyen (2011-2012).  Christine was also a litigation associate at Jones Day's Los Angeles office (2006-2009).  In addition to her law practice, Christine is also an adjunct faculty at the University of Southern California Gould School of Law, where she teaches Legal Writing and Advocacy.  Previously, she taught Business Law at Los Angeles Valley College.
Christine earned her J.D. from University of California, Hastings College of the Law in 2002, where she was bestowed with the Hastings Academic Excellence Award.  She served as a Notes and Managing Editor for the Hastings Law Journal and was awarded with the Raymond L. Ocampo, Jr. Scholarship by the Filipino Bar Association of Northern California (FBANC).  She received her B.A. in Political Science magna cum laude from University of California, Los Angeles (UCLA), where she was awarded with College Honors and the Morgan Harris Scholarship Award.  She was the first recipient of the Royal Morales Scholarship Award.  Christine is admitted to practice before all state and federal courts in the State of California.  She is also member of the bar of the U.S. Supreme Court and the U.S. Courts of Appeal for the Ninth Circuit.  Christine was named a "Southern California Rising Star" by Super Lawyers Magazine in 2008.