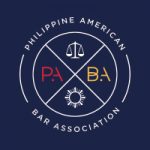 PABA's 32nd Annual Awards and Installation Gala will be on March 14, 2018!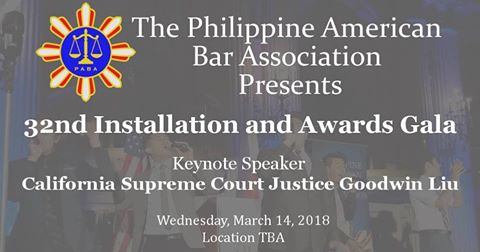 The Philippine American Bar Association ("PABA") is proud to announce that it will be holding its 32nd Annual Installation and Awards Gala on March 14, 2018. The Gala will feature keynote speaker California Supreme Court Justice Goodwin Liu, who co-authored "A Portrait of Asian Americans in the Law," a menu of Filipino flavors, and special performances.
KEYNOTE SPEAKER
PABA is excited to announce that this year's keynote speaker will be Justice Goodwin Liu. Justice Liu is an Associate Justice of the California Supreme Court. He was confirmed to office by a unanimous vote of the California Commission on Judicial Appointments on August 31, 2011, following his appointment by Governor Edmund G. Brown, Jr. on July 26, 2011. The Governor administered the oath of office to Justice Liu in a public ceremony in Sacramento, California on September 1, 2011.
Before joining the state's highest court, Justice Liu was Professor of Law at the UC Berkeley School of Law (Boalt Hall). His primary areas of expertise are constitutional law, education law and policy, and the U.S. Supreme Court. He has published widely on these subjects in books, law reviews, and the general media.
The son of Taiwanese immigrants, Justice Liu grew up in Sacramento, where he attended public schools. He went to Stanford University and earned a bachelor's degree in biology in 1991. He attended Oxford University on a Rhodes Scholarship and earned a masters degree in philosophy and physiology. Upon returning to the United States, he went to Washington D.C. to help launch the AmeriCorps national service program and worked for two years as a senior program officer at the Corporation for National Service.
DISTINGUISHED LEADERSHIP AWARD
PABA is proud to announce the recipient of this year's Distinguished Leadership Award — Ben Hofileña, Jr. Ben is in-house counsel at Twentieth Century Fox where he works as a production attorney in feature films. For twelve years prior to joining Fox, he worked at the global law firms of McDermott, Will & Emery LLP and Orrick, Herrington & Sutcliffe LLP where his practice focused on intellectual property matters. Throughout his career, Ben has been committed to his pro bono work on behalf of children and domestic violence victims primarily working with Kids in Need of Defense (KIND), The Alliance for Children's Rights, and Public Counsel. Ben earned his B.S. in Physiological Science at UCLA and his J.D. from Loyola Law School.
Ben is a former PABA President, a former PABA Foundation President, a lifetime member, and has been a member of PABA's Board of Directors for 16 years. Ben's commitment to PABA is unwavering. Year after year, Ben remains a vocal leader and well-respected mentor for PABA's board and its members. His willingness to serve PABA and the Filipino community at large for over a decade is indicative of his selflessness and high character.
Ben always says that he stands on the shoulders of those who came before him. Thanks to Ben, there have been dozens of Filipino-American lawyers and law students who have benefited from his leadership and are where they are today thanks, in part, to his contributions to PABA. Ben personifies the Distinguished Leadership Award and PABA is honored to award it to him.
***
Please find more information on our Gala page via the following link.