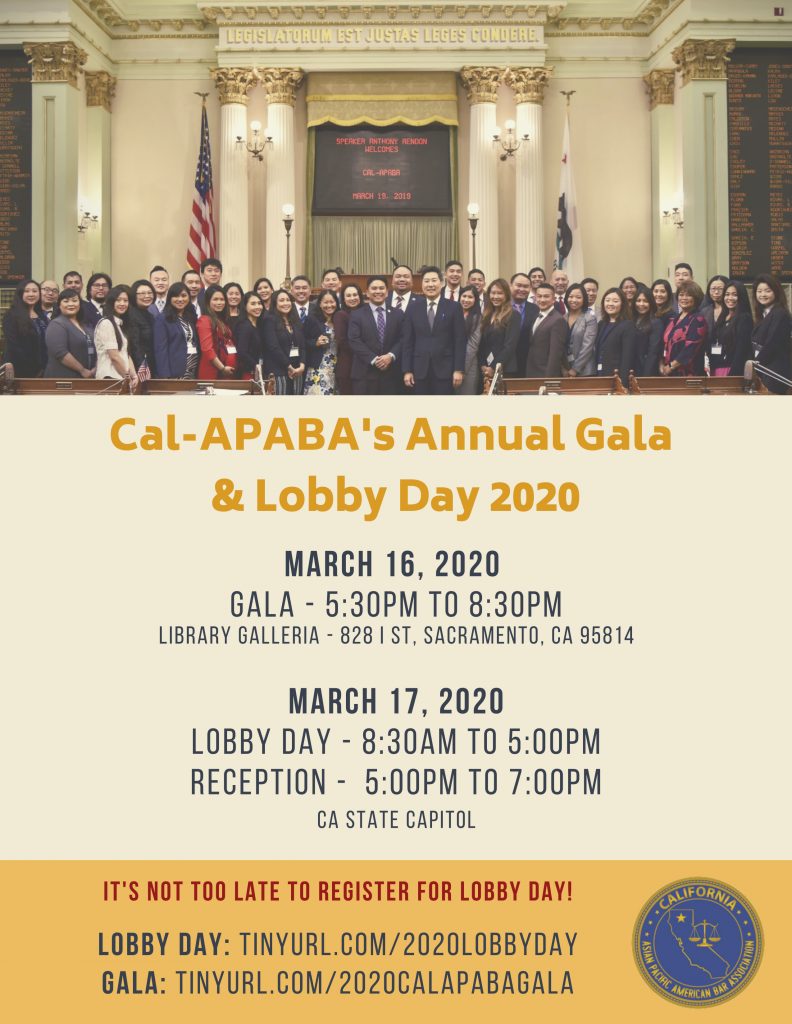 The California Asian Pacific American Bar Association's 3rd Annual Lobby Day will be held in Sacramento on March 17, 2020.
The Lobby Day & Gala are a one of a kind opportunity to network with Asian Pacific American lawyers throughout California and meet with legislators to address priority issues such as API data dis-aggregation, judicial appointments, and others.
Cal-APABA represents the interests of Asian Pacific American bar organizations and the over 14,000 APA attorneys statewide to promote justice and equality, advance legal and policy matters that impact the APA community, and enhance the professional development of its members.
Last year, the group met with the following Assemblymembers and Senators:
Assemblymember Al Muratsuchi
Assemblymember Ash Kalra
Assemblymember David Chiu, Chair of the California API Legislative Caucus
Assemblymember Kansen Chu
Assemblymember Mark Stone, Chair of the Assembly Judiciary Committee
Speaker Anthony Rendon
Senate President pro Tempore Toni Atkins
Key Dates & Times
All activities will take place in downtown Sacramento
March 16 
Gala
6:00 – 8:30 PM
Library Galleria 828 I Street
Sacramento, CA 95814
March 17
Lobby Day
8:30 AM – 5:00 PM
Social Reception: 5:00 – 7:00 PM
It's not too late to register for Lobby Day!
Limited Hotel Rooms for $149/Night
Holiday Inn Sacramento Discount Code: APA
Reserve 
Online
 or Call: 1-877-666-3243