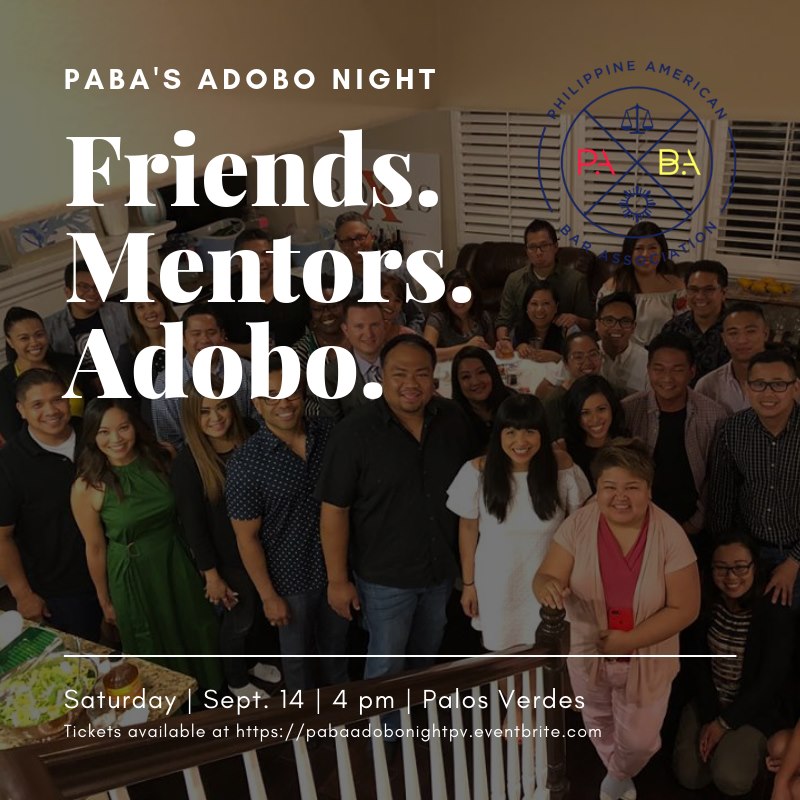 The Philippine American Bar Association invites its members to the next installment of its 2019 "Adobo Nights," a series of dinners hosted by PABA Board Members. The tradition of hosting "Adobo Nights" began at UCLA, when small groups of Filipino-American law students and lawyers gathered informally over delicious Filipino food, including homemade Adobo, and stimulating conversation. For many of the attendees, these Adobo Nights created friendships and mentorship-bonds that have lasted for years! At PABA's Adobo Nights, you'll meet lawyers from diverse practice areas as well as aspiring lawyers and continue this wonderful tradition!
The Palos Verdes edition of our Adobo Nights will be graciously hosted by Board Members Sandy and Adrian Roxas! We are grateful for their hospitality!
Adobo Night
Saturday, September 14, 2019
4:00 PM
Palos VerdesTickets are available at 
https://pabaadobonightpv.eventbrite.com
. The address for the Adobo Night will be sent privately to those who obtain a ticket. Space for this Adobo Night is LIMITED so please obtain your tickets ASAP!