PABA's 32nd Annual Awards and Installation Gala will be on March 14, 2018!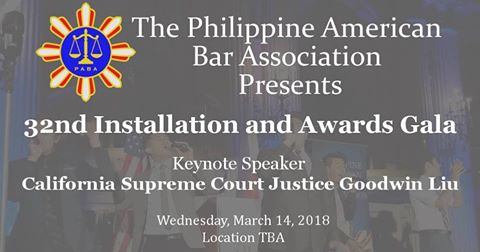 The Philippine American Bar Association ("PABA") is proud to announce that it will be holding its 32nd Annual Installation and Awards Gala on March 14, 2018. The Gala will feature keynote speaker California Supreme Court Justice Goodwin Liu, who co-authored "A Portrait of Asian Americans in the Law," a menu of Filipino flavors, and special performances.
KEYNOTE SPEAKER
PABA is excited to announce that this year's keynote speaker will be Justice Goodwin Liu. Justice Liu is an Associate Justice of the California Supreme Court. He was confirmed to office by a unanimous vote of the California Commission on Judicial Appointments on August 31, 2011, following his appointment by Governor Edmund G. Brown, Jr. on July 26, 2011. The Governor administered the oath of office to Justice Liu in a public ceremony in Sacramento, California on September 1, 2011.
Before joining the state's highest court, Justice Liu was Professor of Law at the UC Berkeley School of Law (Boalt Hall). His primary areas of expertise are constitutional law, education law and policy, and the U.S. Supreme Court. He has published widely on these subjects in books, law reviews, and the general media.
The son of Taiwanese immigrants, Justice Liu grew up in Sacramento, where he attended public schools. He went to Stanford University and earned a bachelor's degree in biology in 1991. He attended Oxford University on a Rhodes Scholarship and earned a masters degree in philosophy and physiology. Upon returning to the United States, he went to Washington D.C. to help launch the AmeriCorps national service program and worked for two years as a senior program officer at the Corporation for National Service.
DISTINGUISHED LEADERSHIP AWARD
PABA is proud to announce the recipient of this year's Distinguished Leadership Award — Ben Hofileña, Jr. Ben is in-house counsel at Twentieth Century Fox where he works as a production attorney in feature films. For twelve years prior to joining Fox, he worked at the global law firms of McDermott, Will & Emery LLP and Orrick, Herrington & Sutcliffe LLP where his practice focused on intellectual property matters. Throughout his career, Ben has been committed to his pro bono work on behalf of children and domestic violence victims primarily working with Kids in Need of Defense (KIND), The Alliance for Children's Rights, and Public Counsel. Ben earned his B.S. in Physiological Science at UCLA and his J.D. from Loyola Law School.
Ben is a former PABA President, a former PABA Foundation President, a lifetime member, and has been a member of PABA's Board of Directors for 16 years. Ben's commitment to PABA is unwavering. Year after year, Ben remains a vocal leader and well-respected mentor for PABA's board and its members. His willingness to serve PABA and the Filipino community at large for over a decade is indicative of his selflessness and high character.
Ben always says that he stands on the shoulders of those who came before him. Thanks to Ben, there have been dozens of Filipino-American lawyers and law students who have benefited from his leadership and are where they are today thanks, in part, to his contributions to PABA. Ben personifies the Distinguished Leadership Award and PABA is honored to award it to him.
TRAILBLAZER AWARD
PABA is proud to announce the recipient of this year's PABA Trailblazer — Ruthe Catolico Ashley!
Ruthe Catolico Ashley, Executive Director Emeritus of California LAW, incorporated this new non-profit as the foundational structure that will connect, collaborate, coordinate and communicate between the existing pipeline programs in the State of California. California LAW supports the 22 existing high school law academies, 26 community colleges, 8 undergraduate institutions and law schools who are partners in this project to diversify the legal profession in the State of California through the educational pipeline.
Ashley is considered the Pipeline Guru for the legal profession in California. She chaired the Diversity Pipeline Task Force for the State Bar of California in 2007, which jump-started the pipeline work in this state. After the Task Force sunsetted, Ashley founded and created the Council on Access and Fairness with the State Bar of California – now a leader in legal diversity across the nation. She was also the first President/CEO of California ALL, and the first Executive Director of California LAW, two non-profit organizations with a mission to diversify the legal profession. She was the founding mother of the first 6 high school law academies that formed the nucleus of the California Partnership Academy high school law pathway. These law academies were the first "boots on the ground" program focused on diversifying the legal profession starting in 10th grade in California. Ashley was responsible for overseeing the success of these law academies and continues to nurture and build new academies.
In numerous areas, Ashley has broken barriers for women, women of color and Filipinas in leadership statewide and nationally for the legal profession. She was elected to the American Bar Association's (ABA) Board of Governors in 2014 and is the first Filipina and 2nd Asian Pacific American women on the ABA's board in its 140-year history. She chaired the board's Public Service & Diversity Committee leading the change in a new and improved Diversity Structure for the ABA. Currently she chairs the Public Education Committee which includes responsibility for Law Day nationally. She co-chaired the Women of Color committee for the prestigious Commission on Women in the Profession and served as chair of the Council on Racial and Ethnic Diversity in the Educational Pipeline. She served as the first Filipina on the State Bar of California's Board of Trustees from 2004-2007 chairing the Diversity Pipeline Task Force and leading the BOT in forming the Council on Access and Fairness, one of today's leaders in legal diversity.
Ruthe is a past president of the National Asian Pacific American Bar Association (NAPABA) receiving its Trailblazer Award in 1998. The recipient of numerous awards including a Special Diversity Award from the State Bar of California (2010), Francis Newell Carr Women Lawyers of Distinction Award from Women Lawyers of Sacramento (2011), Alumni of the Year from Pasadena City College (2014), she graduated from Pacific McGeorge School of Law in 1988 and practiced law as a trial attorney for 15 years before returning to her alma mater as Assistant Dean of Career Services. Now retired, she devotes her time to diversity in the legal profession by building the educational pipeline into the law.
COMMUNITY CHAMPION AWARD
PABA is proud to announce the recipient of this year's PABA Community Champion Award– PABA Lifetime Member, Minh T. Nguyen.
Minh is the founder and lead trial attorney at Nguyen Lawyers, ALC, a boutique five- lawyer litigation firm that primarily represents catastrophically injured clients in personal injury lawsuits. He handles difficult cases that are often rejected by other law firms. For example, in 2002, right out of law school, he took on an orphaned case – a case that had been rejected by three different law firms and could not find a home – from start to finish. He represented a five-year-old boy who was injured in an intersection car accident. The driver of the boy's car was uninsured, unlicensed, on anti-depressant medication, and had made a left turn in front of oncoming traffic. Despite the foregoing, he sued the city and proved that the intersection was dangerous. He recovered $3.5 million for the boy and his family. Since then, he has gone on to recover over $111 million in settlements and verdicts for his clients. He has been recognized by his peers as a Super Lawyer for the past 5 years for his tireless energy and commitment to his clients. He believes in justice for every man, woman, and child regardless of race, ethnicity, gender, or sexual preference.
Minh is a member of the Board of Governors of the Consumer Attorneys Association of Los Angeles (CAALA), Consumer Attorneys of California (CAOC) President's Club, and a former trustee for UC Hastings, College of the Law. Minh currently serves on the Executive Committee of CAALA as Secretary and will be President of CAALA in 2023.
Minh mentors young lawyers by volunteering his time as an instructor for CAALA's Plaintiff Trial Academy, teaching new trial lawyers advanced trial skills in an annual, intense 15-day training. He is a Past President of the Los Angeles Trial Lawyers Charities, an entirely volunteer-run 501(c)(3) nonprofit organization that provides financial assistance, focusing on issues related to education, children, survivors of abuse, persons with disabilities, and homelessness. Under Minh's leadership in 2014, LATLC implemented the annual "Casino Night" fundraiser, wherein the funds have enabled LATLC to donate more than $3,500,000 to the community in grants, gifts and goods; 545,359 pounds of food, totaling more than 848,000 meals; $120,000 in College Scholarships; and more than $100,000 to Youth Sports. In 2016, Minh led LATLC in hosting the "First Annual Holiday Turkey and Toy Giveaway," its first own service event to donate over 500 turkeys and over 1,000 toys to local families in Los Angeles. More recently, in 2017, Minh spearheaded LATLC's partnership with SoCal Trykers, founded by a group of physical therapists who help disabled children in the area acquire adapted tricycles, to fund, built, and present 33 customized tricycles to children with special needs to date.
Minh is an avid supporter of his Long Beach community. He regularly speaks to high school students and funds high school scholarships to local Cambodian-American students. He also sponsors local community centers such as the United Cambodian Community, a 501(c)(3) non-profit, multi-cultural, social services agency.
***
Please find more information on our Gala page via the following link.